No one believed earlier when someone said 'Learning can be fun'! However, technological advancements have made the statement possible. There are several methods coming day by day to promote an interactive learning option in order to make the process enjoyable.
That's where lies the purpose of learning management systems or LMS, an approach that emerged out of e-learning. E-learning has evolved over the years into a cutting-edge strategy that surpasses the approach it was first intended to assist.
The declining fortunes of instructor-led training have been made worse by a number of technological, workplace, and e-learning trends, especially at a time when face-to-face encounters are hazardous to one's health because of the COVID-19 pandemic.
This blog presents you with the nitty-gritty of an LMS platform, its features, as well as upcoming trends, and predictions. The following words will be a clear representation of today's technology and how will it impact the future of personalized learning.
Overview of Learning Management System
What is an LMS?
In very simple words, LMS, or learning management system is an online platform to improve your learning process by using a smart approach. It can be accessed from any corner of the world, making it flexible and easy to use.
E-learning VS Traditional Learning
It may arise the question that how LMS platforms or e-learning is different from the traditional style of learning. Go through the following pointers to have a deeper insight into it.
Traditional learning is a teacher-centered method, while e-learning is a learner-centric method. The difference lies in the approach and it is completely as per the requirements of the user.
Traditional learning is a one-way communication channel, where a teacher speaks and a student listens, whereas, in e-learning, there is a two-way communication channel, where both teacher and learner are interacting during the learning process.
Traditional learning methods ask students to take in the information and memorize it whereas e-learning focuses on putting a more practical approach for a better understanding.
The traditional learning approach is time-bounded, whereas e-learning via an LMS platform is a flexible process that allows learners to access learning at their convenience.
Benefits of LMS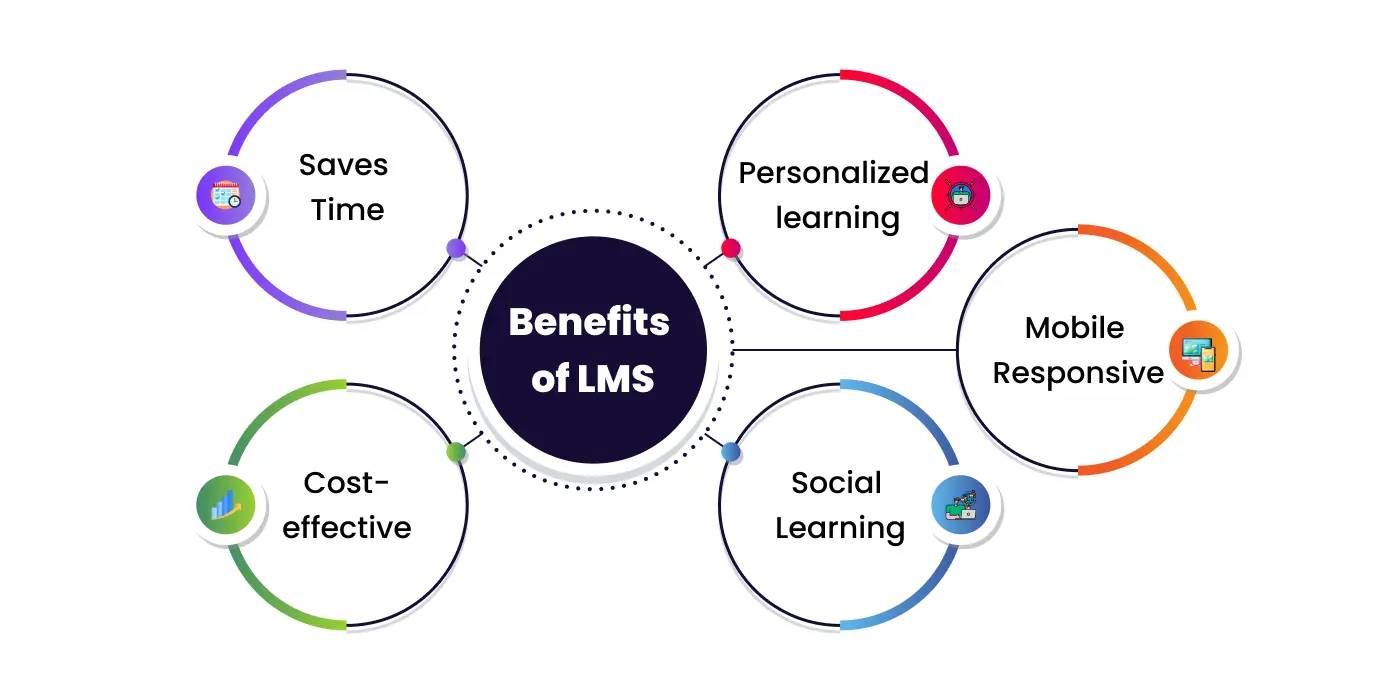 1. Saves Time
The fact that e-learning can save a lot of time for your organization because of its remote and flexible nature. Learners can access the course at their own convenience and at their preferred time.
2. Personalized learning
The best learning management systems don't follow the one size fits all approach. It rather provides what is needed and how much is needed, thus making it a better option.
3. Cost-effective
Would you rather get up early in the morning, get ready, grab a taxi, and settle down in a room full of chairs to attend a lecture from the start or you simply open your laptop or mobile and start from where you left off? Undoubtedly, option second is appealing, and that's what LMS does. You may look at the expense to buy a course at once but it is relatively cheaper than the everyday hassle.
4. Social Learning
It is nice to have like-minded people around since you cannot be with the opposite kind for much longer. LMS connects you with like-minded people so you can grow at your own pace. Additionally, it allows you to have one on one sessions with the experts in your field to guide you in a personalized manner.
5. Mobile Responsive
LMS platforms are mobile responsive, which means they can be easily accessed over the fingertips. Since mobile users are relatively higher than desktop users, it is essential for any technology to be mobile-friendly. This will not only garner more users to the technology but it will also help in building a good brand reputation.
Trends and Predictions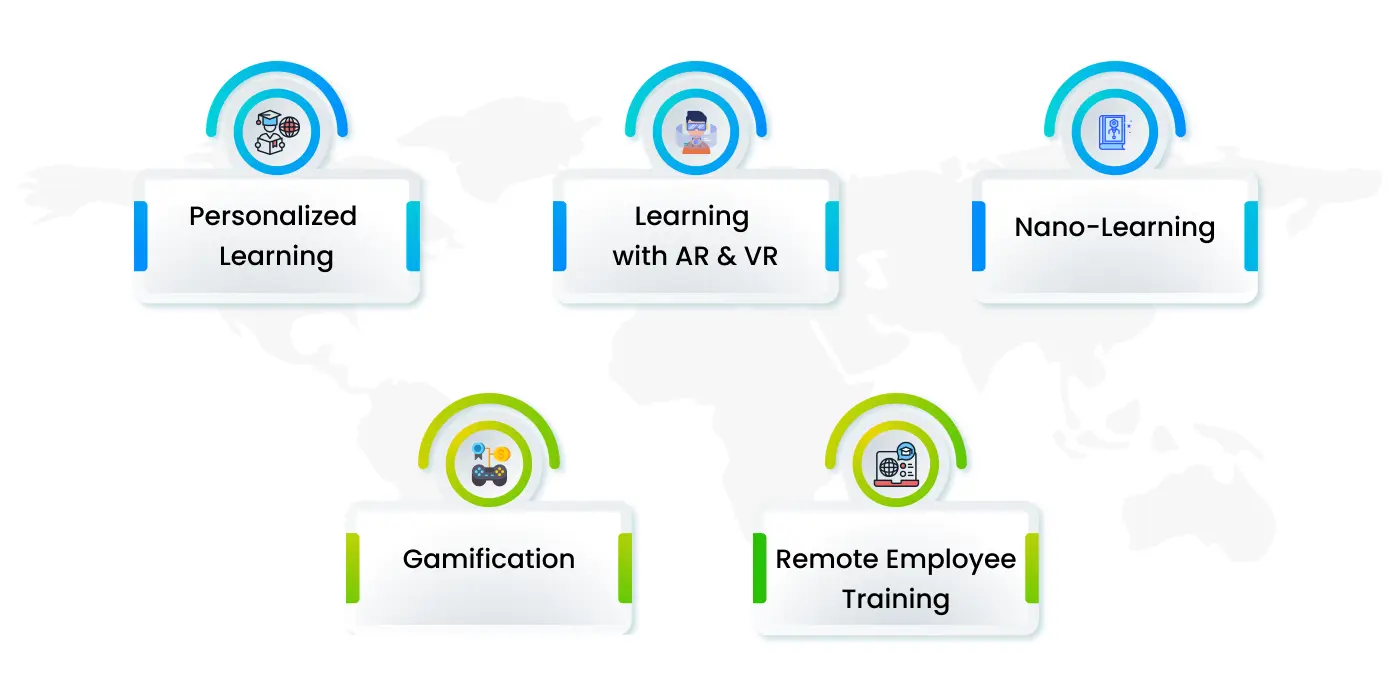 1. Personalized Learning
AI knows everything, from the courses you are learning to the pattern you follow, all thanks to machine learning. In response to that, it suggests similar courses and materials that you may like and want to learn. This way AI is making the whole process seamless and hassle-free, as a result boosting your productivity and saving your precious time. There are many options available in the market, but the best LMS for online courses will have all the essential features.
2. Learning with AR & VR
Learning can be fun, the statement is only possible if you try to integrate a different approach towards it. That's where enters AR or augmented reality. It allows the learner to interact with the learning process within the real world. LMS platforms are seeking a way to integrate augmented reality into the learning session to make it fun and interactive.
Meanwhile, VR or virtual reality is a system-controlled technology that can give you a world tour if you needed, all you need is a VR headset. Imagine having a history exam the next day and you are stuck with a boring topic, here VR can take you to places and give you a vast understanding of the topic. The technology is still in its initial stages but has immense potential for the future.
3. Gamification
Who hates games? Almost no one. What if you can learn something each day while engaging with playful characters & challenges, and getting rewards for it?
Gamification is the exact same concept. L&D managers are trying to integrate gamification into the learning management system. This will not only increase the interaction but also motivates the learner to achieve more by doing challenging tasks. Gamification can contribute immensely to an LMS future.
4. Nano-Learning
Instagram's reel trend has introduced the short attention span mentality in people, and now they skip longer videos within a blink of an eye. That's where the nano/micro-learning concept comes into play.
LMS platforms are trying to provide learning materials of short duration to keep the process attentive. There's no point in interaction or any other approach if your learner is not paying attention throughout the session. The combination of short learning sessions with gamification will be a deadly combination.
5. Remote Employee Training
After the outbreak of the deadly coronavirus, many big and small companies are working remotely, and the trend is not likely to go away anytime soon. This brings the need for virtual training of employees, and that's where LMS helps.
This remote training can be provided to employees as per their requirements and needs. Similarly, the assessments and reports for the same can also be generated on the platform. So if you are searching for the best LMS for corporate training, Protonshub Technologies will be a one-stop solution for all your requirements.
These are the top 5 trends and predictions for the learning management system industry. However, there is more to the list and we can expect much bigger inventions in the future.
Frequently Asked Questions
There are many applications of an LMS, some of them are employee training, employee onboarding, customer training, educational training, sales enablement, and others.
The top trends and predictions of learning management systems are remote employee training, nano-learning, gamification, learning with AR/VR, and personalized learning.
In a broad spectrum, there are two types of learning management systems, that is proprietary LMS and open-source LMS.
LMS can save a lot of time for your organization because of its remote and flexible nature. Learners can access the course at their own convenience and at their preferred time.
The major components of a good learning management system are personalized experience, interactiveness, integrations, notifications, and reporting & tracking.
Conclusion
Trends and predictions may come and go, but what stays the same is the goal of these platforms to provide better efficiency, improved productivity, and most importantly, results. If the technology is able to give desired results, it will stay in the game no matter how many trends pass by. The above-mentioned points are just for reference on what to expect, but in reality, people are still determining what turn the e-learning industry might take.