There are a lot of modern applications, so what makes some of them unique in the market?
The first impression is the only one that matters, but are you able to provide your customer with a memorable experience?
Multiple UI/UX design trends are on the rise, and‌ top-notch UI/UX designers are following all trends and technology updates.
Here, modern user interfaces are the solution. A user interface (UI) design can increase your return on investment, foster a positive user experience, engage your audience, and do a lot more.
As a UI/UX designer, if you are aware of the top strategies, it becomes quite easier for you to provide your clients with the best results in less time and cost.
Through this blog, you will get a deep insight into how you can create an effective modern app UI design that will be a success in the future. It will also highlight the benefits of UI/UX design for your business and further tell you about UI/UX Design companies in USA.
Top 10 Strategies to create a Successful UI/UX Design in 2023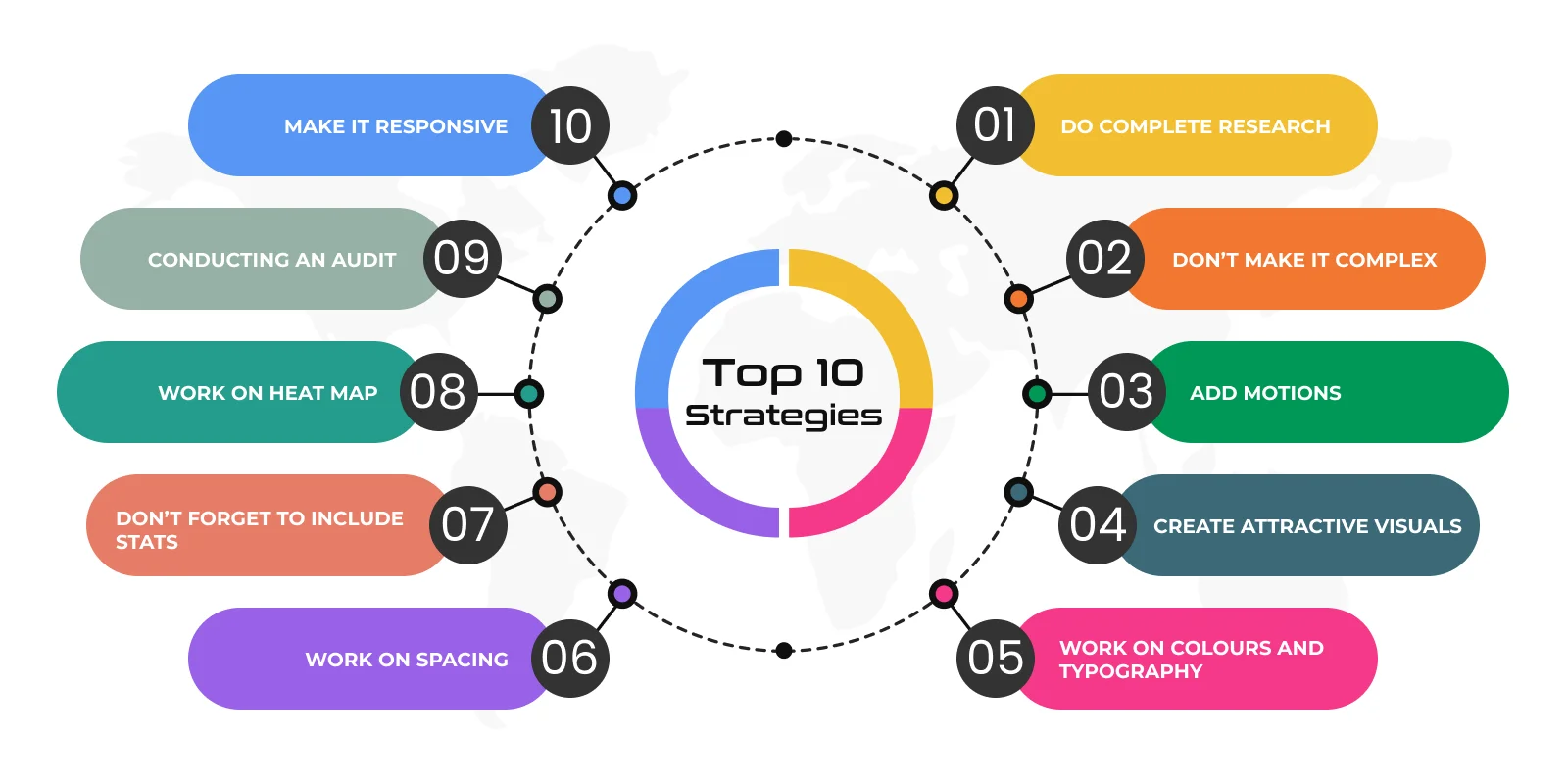 Developing a complete UI/UX is a challenge for many designers. So here are some top-notch strategies that can help you as a designer create effective and successful UI/UX designs for your clients.
1. Do Complete Research
Before beginning with any task, the foremost thing you do is a complete research on the topic. You can opt for a market survey to gain more knowledge about UI/UX and its trends. UI/UX designers should do thorough research before they start with the development of mobile applications.
2. Don't Make It Complex
What is the main aim of developing a modern application?
The foremost goal is to make it easy for users to gain information without any hassle. So as a UI/UX designer, you should try to focus on how you can make the app more user-friendly and simple for your clients.
3. Add Motions
Developing screens that make your visitor stay on your app is something modern UI makes achievable. Moving screens, attractive visuals, and a lot more are something that creates a difference.
Adding the correct motions is a challenge. Sometimes long UI motions irritate visitors and can make them leave your app. But adding the right UI motion can scale up your brand's image and customer engagement hassle-free.
4. Create Attractive Visuals
Creating a modern application is not just about giving top features; the most important point is to add visuals that give visitors a sense of investing in the application.
Adding 3D designs, illustrations, and attractive visuals that are on-trend in UI/UX design. Research what's on trend and try to build a UI design that meets the current competitive demand.
5. Work On Colours and Typography
Do you think about your brand before you choose colors for your application? When it comes to both UI and UX, colors play a crucial role.
Your colors define you, so choose them wisely. Many factors determine the color of your application, like readability, your logo, the app's structure, and whatnot. Also, the font should be readable and not too fancy if you are developing a website.
6. Work On Spacing
Elements like padding, line spacing, margins, etc. are really small but highly important points to remember and implement when it comes to UI/UX for your application. As a UI/UX designer, it's crucial to note all these small points, as they make you and your work more transparent and effective.
Vertical and horizontal spacing is really important and are noticed by users and visitors of your application. The spacing defines the readability of the content and also provides a good user experience.
7. Don't Forget To Include Stats
'Designers who include numbers in their designs attract a larger audience than those who don't. Do you know why? Audiences want numbers; they want statistics, and if they get that in the design, it becomes more understandable and valuable for them.
Don't just make designs, include illustrations and infographics. Add content, data, and numbers and make your designs more competitive and user-friendly.
8. Work On Heat Map
As a designer, you might be aware of the term 'Heat Map'. If not, then the Heat map is a process in which you get a complete visualization of the website based on how many times users click, move, and scroll on the page. It shows data that helps you evaluate site interaction.
It helps you in many ways, like identifying the best-performing designs, providing information about CTAs with the most and least clicks, measuring the number of clicks, and so on.
9. Conducting an Audit
A usability audit, also known as a UX audit, is one of the essential steps to be executed to maintain quality UI/UX design. Whether it be a mobile app or a website, proper evaluation is essential to bring out the deviations occurring.
A complete UX audit makes it easy for you to boost your conversion rate and increase your site's visibility and engagement.
10. Make it Responsive
Just making a highly attractive and functional UI/UX is not the ultimate goal. As a UI/UX designer, your aim should be to make your design responsive, which means it should be visible on all screen types, whether Android or iOS.
Many times, a website's design looks different on a desktop and on a mobile screen. So it's one of the prime tests to be done before giving a final hit.
UI/UX Design: How will it benefit your business?

Thinking to invest in UI/UX development but still confused about it? Here are some benefits listed to help you make the right decision.
1. Increases Customer Engagement
You might be thinking about how UI/UX can encourage your customers to visit your website.
You as a reader look for designs, elements, proper spacing, illustrations, graphical data, and a lot more when you read the content. So UI/UX plays a very important role in providing all of it for your customers.
A good UX/UI provides customer satisfaction, improves customer retention, and boosts customer loyalty.
2. Improves Revenue Generation
With an increased customer satisfaction and retention rate, you get more loyal customers, which helps you generate more revenue in less time and organically. It helps you boost your digital marketing strategy, and with continuous customer engagement; you get the advantage of knowing more about the odds and evens in your design.
3. Provides Competitive Edge
With a UI/UX design, your business gets the right edge over your competition, and it helps you build your brand value in less time and at a lower cost.
Small and big businesses with outstanding user interfaces always stand out in the current market. Creating effective and user-centric designs can make your brand look different and unique to others.
4. Improves Content Readability
Who wants to read content where there is a lack of proper spacing?
Many times the content quality is really good, but due to its structuring, your readers will not be willing to read the content. If you invest in developing a proper UI/UX for your application or website, then you are going to get properly structured content with the needed visuals and graphics.
UI/UX Designer: Top Skills to Develop in 2023

Are you a UI/UX designer? Here are some top skills that will help you take your UI/UX journey to the next level.
1. Creativity
One of the foremost qualities everyone looks for in a designer is the level of creativity it holds in their work. So if you are a designer, then having a creative mindset is highly important to attract new clients and boost your revenue.
2. Communication
You might work with developers, designers, clients, and so on, but in order to ensure a seamless flow of work, it's important to have good communication skills. As a designer, you should be able to communicate your ideas and thoughts to your clients.
3. Knowledge of the Latest Designing Principles
If you are a designer, then knowing the basic principles of design will not only help you make creative designs but will also help you design different types of websites, mobile apps, and a lot more.
4. Expertise In Prototyping Tools
Knowledge about the latest and trending tools is really important, like Figma, Sketch, Photoshop, and so on, will help you as a designer to deliver highly effective UI designs.
5. Problem-Solving Ability
Creating designs is not just a one-time shot, a lot of hits and trials are needed to come up with the finest design. So as a UI designer, you should have the skill to be a problem solver and think outside the box in terms of creating effective designs for your customers.
Frequently Asked Questions
UI, or user interface, includes all the elements that a user may encounter while using a digital service or product. Because of this, the user interface design covers a wide range of features, such as screens, keyboards, lighting, and audio.
The user interface includes how a device appears to a user. User Experience (UX) refers to elements of a user's engagement with an application, item, or operating system.
Some of the highly needed critical skills that a good UI/UX designer must have are as follows:
Prototyping
Wireframing
Communication
Information Architecture
Not just this, there are some soft skills as well, that make a UI/UX designer different from others. Soft skills included communication, a high level of understanding, curiosity, and so on.
You might be confused about whether to invest your money in achieving a good UI/UX or not. But here are some core benefits that your business can get from investing in building UI/UX.
UI/UX can give your business a lot of benefits:
Builds Brand Loyalty
Provides Customer Satisfaction
Develops Brand Loyalty
Increases Revenue
The list is long, so it's worth investing in a UI/UX design.
UI/UX design process begins with understanding your requirements. Firstly, it begins with analyzing each and every small aspect before beginning with the development process. Then we move on to the design aspect, followed by testing and implementation.
The process is quite simple and clear, and it results in increased customer satisfaction.
Some of the major UI elements that every designer should know are as follows:
Dropdowns
Icons
Breadcrumbs
Notifications
Input field
Forms etc…
There are many more, but these are some top-notch ones that help the designer become skilled in UI/UX design.
UI/UX development costs are not fixed. It depends on various factors like the duration of the development process, the complexity of the project, the design elements, the technology used, and a lot more.
The answer is NO, but if the designers know the basics of coding like Javascript, then it can help them understand the part played by developers and assist them in creating more effective designs.
Conclusion
In the end, UI is all about making not just the user interface simple and unique but also helping customers navigate to what they are looking for without any time consumption or confusion. Your modern application should be not just functionally sound but also visually appealing. The above-mentioned points will definitely help you discover and create the best user interface in an affordable and less time-consuming way. You might be confused about whether your skills match what is required by designers. The points mentioned will definitely help you find the answer to the same. Many growing and top UI/UX design companies provide top-notch designs as per what you need, so hurry up and make your UI/UX competitive in the market.